By Fons Sonnemans,
25-okt-2017
By Fons Sonnemans,
25-okt-2016
By Fons Sonnemans,
01-jun-2015
Op de TechDays 2015  mochten we dit jaar maar liefst 3 sessies verzorgen. De 'Coding for Kids' sessie werd gepresenteerd door Franci van der Mijden en Fons Sonnemans.  Hierbij werd duidelijk dat je kinderen kunt leren programmeren in plaats van ze alleen maar spelletjes te laten spelen. We hebben de verschillende programmeeromgevingen gedemonstreerd die er zijn om kinderen te leren programmeren. Met een opkomst van ruim 100 geïnteresseerden was de zaal volledig gevuld. Op veler verzoek kunt u de slides van deze presentatie hieronder bekijken.
We believe the children are our future. Teach them well!
By Fons Sonnemans,
16-dec-2014
Op vrijdag 12 december hebben we op het Varendonck-College in Asten 'the hour of code' georganiseerd. Ongeveer 50 leerlingen hadden zich hiervoor opgegeven. The 'hour of code' is een wereldwijd initiatief om leerlingen te betrekken bij de wereld achter de computer, het programmeren.
In het kader van de wereldwijde week van de informatica konden in meer dan 180 landen tientallen miljoenen leerlingen tegelijk online deelnemen aan 'the hour of code'.
Samen met Gerard Verbrugge van Microsoft gaven we de Varendonck leerlingen een één uur durende introductie in de informatica, om hen de basispricipes van programmeren te leren.
De enthousiaste deelnemers behaalden allemaal een certificaat.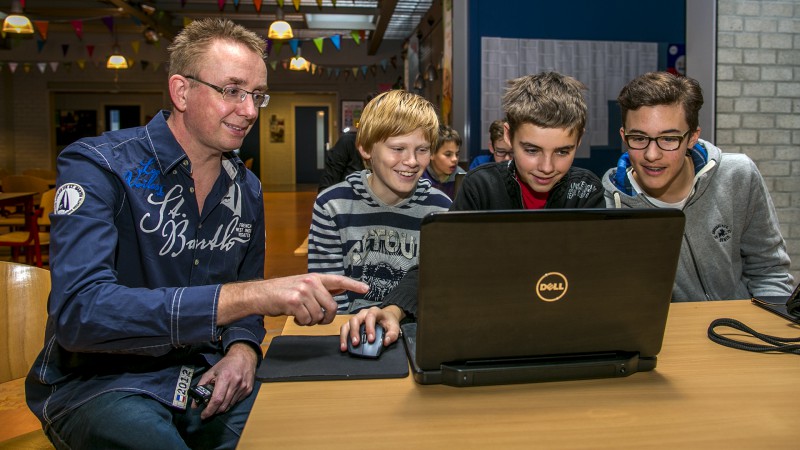 Foto: Rob Fritsen - Siris
By Fons Sonnemans,
21-okt-2014
The Dutch and Belgium Windows and Windows Phone developers have organized the Lowlands Windows Phone Developer Day event on 18 October 2014. I have presented this 'Twelve ways to make your apps suck less' presentation. With this blog I like to share the slides and demo projects (download button below).
By Fons Sonnemans,
31-mei-2014
Op 16 en 17 april heb ik weer bij het TechDays 2014 event van Microsoft een aantal sessies gepresenteerd. Via deze blog wil ik de videos en presentaties met u delen.
By Fons Sonnemans,
20-mrt-2013
By Fons Sonnemans,
10-mrt-2013
By Fons Sonnemans,
26-apr-2012
Op 12 en 13 april 2012 heeft Microsoft Nederland in de Fabrique in Maarssen het Windows 8 Developer & User Experience Design Camp georganiseerd. Het was een druk bezocht evenement waarbij er een bijna 50/50 mix was van developers en designers.
De eerste dag bestond uit een programma van sessies, waarbij er ook breakouts waren voor developers en voor designers. Hiervan heb ik 2 sessies mogen verzorgen. Deze sessies zijn opgenomen en staan nu online op Channel9.
By Fons Sonnemans,
05-mrt-2012
Ook dit jaar heb ik mogen spreken op het Techdays event van Microsoft dat op 16 en 17 februari in Den Haag gehouden is. Deze keer met 3 sessies waarvan er twee op Channel9 te bekijken zijn.
All postings/content on this blog are provided "AS IS" with no warranties, and confer no rights. All entries in this blog are my opinion and don't necessarily reflect the opinion of my employer or sponsors. The content on this site is licensed under a Creative Commons Attribution By license.