By Fons Sonnemans,
09-jul-2019
With Visual Studio 2019 Preview (currently version 16.2.0 Preview 3.0) you can use C# 8.0 in  .NET Core 3.0 projects. You only have to set the Language version to C# 8.0 (beta) in the Advanced Build Settings. Make sure you do this for 'All configurations' and 'Any CPU', see screenshot below.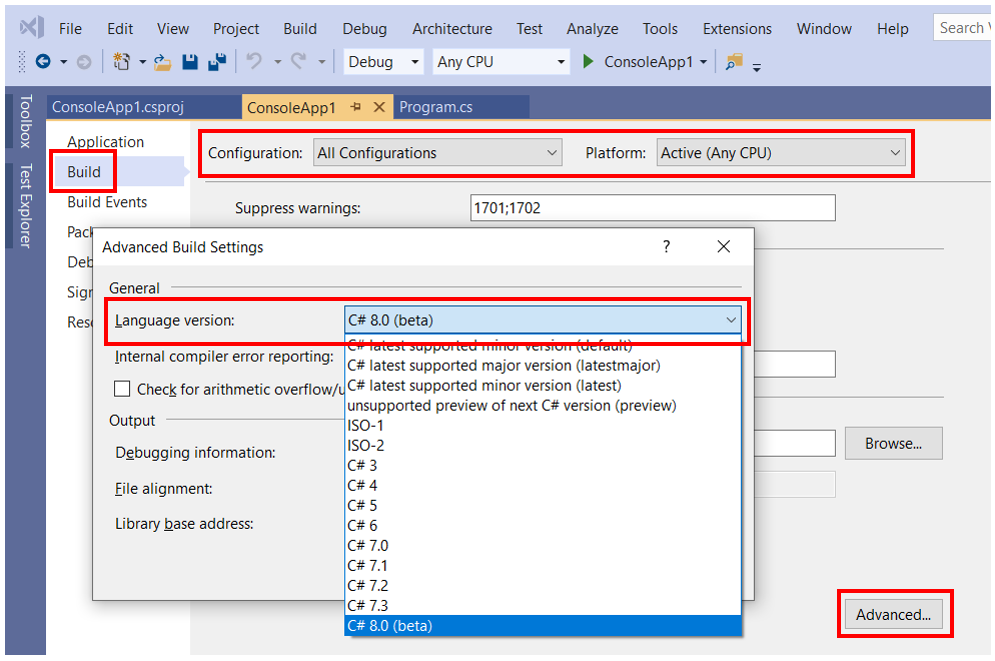 This setting will add a LangVersion property to your .csproj file (line 6).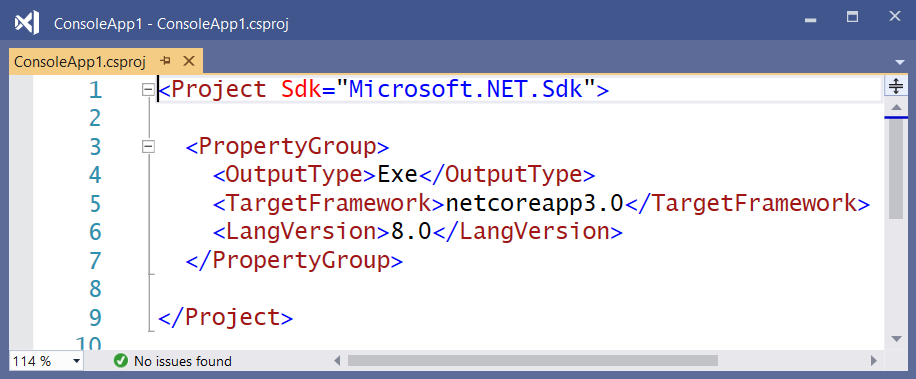 By Fons Sonnemans,
04-jul-2008
On Juny 3, I did a Visual Studio 2008 presentation on the PEAK-IT Summer DevNight 2008 at the Fulcotheater in IJsselstein.
You can download the slide deck here.
I had a good time presenting this sessions. I hope it was a useful for you as well.
By Fons Sonnemans,
09-okt-2007
I have created a new Visual Studio 2005 Macro which can be used to convert a literal text to an asp:Label that is associated to the next control. You first have to select the text and then Run the ConvertSelectedTextToAssociatedLabel Macro. In the example below the text Age: is selected.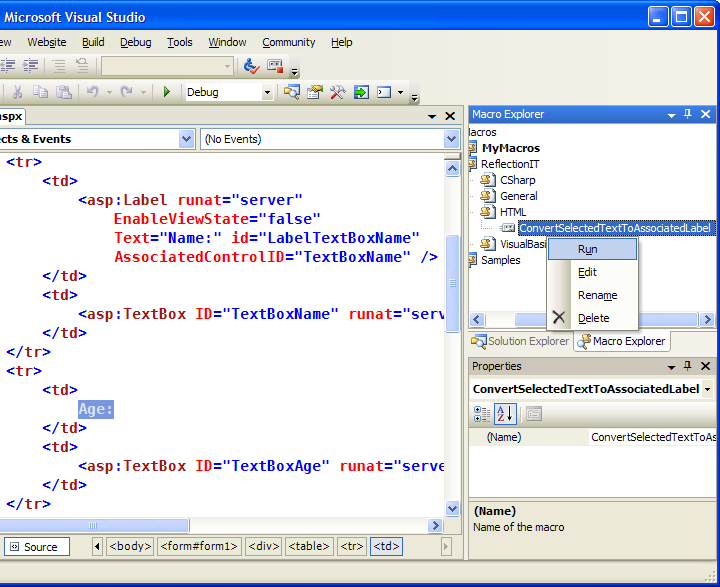 The result is an asp:Label with the correct Text and AssociatedControlID attributes.

Download Zipfile
By Fons Sonnemans,
02-okt-2007
I use Visual Studio 2005 Code Snippets a lot. Especially during trainings. I have created some snippets myself which I want to share. Download this zipfile and extract it in the "My Documents\Visual Studio 2005\Code Snippets\Visual C#\My Code Snippets" folder.
By Fons Sonnemans,
27-mei-2007
I finally found some time to play with XNA. I learned a lot from Rob Miles at TechEd 2006. He has some great samples on his website. Rob will also be presenting about this subject on the DevDays 2007 in the Netherlands. Fun is guaranteed.
My first game is a remake of a game I build 20 years ago on my Commodore 64. You must move around a bouncing ball using your joystick. The ball may not collide with the flying birds. It took me only a few hours to build and it was great fun.
XNA - Drawing Text in XNA
By Fons Sonnemans,
18-nov-2005
Three years ago I have written some useful Visual Studio 2003 macros: SortCode and CreateProperty. With the introduction of VS2005 it was time to upgrade them.
The new SortCode macro also supports VB.NET 2005. Totally new is the EncapsulateAllNonPrivateFields macro. It creates properties get/set for all non private (public, protected, internal) fields. By using the CodeDom I managed to supports VB.NET and C#.
Example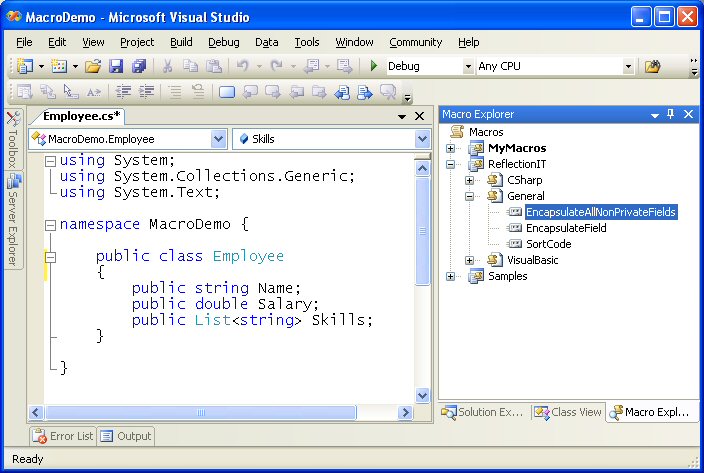 After running the marco the 3 fields are private and there are 3 extra properties.
By Fons Sonnemans,
20-sep-2005
The slides from my presentation 'NDoc Integratie in Visual Studio 2003 & 2005' can now be downloaded.
By Fons Sonnemans,
13-sep-2005
I have just watched the live PDC05 Keynote Webcast. I'm very impressed. Great demo's showing LINQ, Indigo, Atlas and Avalon. The problem for Microsoft will be to get us 'the developers' to use these new technologies as soon as possible. I'm afraid it is all to much for a 'normal' developer too cope with.
By Fons Sonnemans,
30-aug-2005
I will be speaking at the SDN Software Developer Event on the September 16 2005, De Reehorst - Ede . I will talk about the integration of NDoc with Visual Basic 2003 and 2005. Hope to see you there.
By Fons Sonnemans,
05-aug-2005
C# 2.0
Class Designer
Unit Testing
Code Coverage
FXCop Integration
Debugging: DataTips, Visualizers and Viewers
Refactoring
Improved IntelliSense
Code Snippets
Profiles
Strongly-typed resource class generator
Improved (not perfect) Windows Forms controls
All postings/content on this blog are provided "AS IS" with no warranties, and confer no rights. All entries in this blog are my opinion and don't necessarily reflect the opinion of my employer or sponsors. The content on this site is licensed under a Creative Commons Attribution By license.