I own a Pocket PC since a few months. It's a nice peace of hardware although I didn't use it much. There wasn't much practical use for it. Now I have decided to write my own Time Registration and maybe my own Car Mileage Administration application.  In both Smart Device Applications I have to enter a Time regullary. Microsoft didn't supply me with a good control for this so I decided to write one.
Writing a Smart Device Applications is made easy with the introduction of Visual Studio.NET 2003 and the .NET Compact Framework. In this article I describe how I have written a TimeBox control for the Pocket PC. It's not much different from a normal Windows Forms control.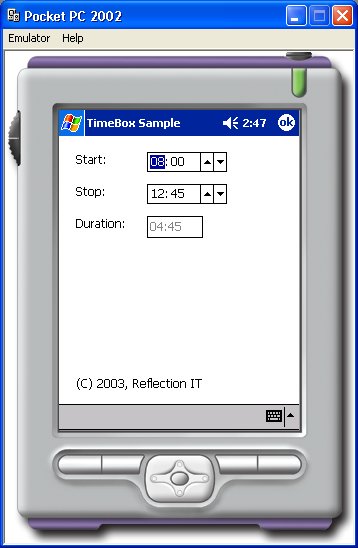 TimeBox Sample running in the Pocket PC Emulator
I plan to use this TimeBox in my application so I have placed it in an separate project. Due to the low memory footprint you also have to create a designer able version of it. This version will have extra design-time only code (methods and attributes).